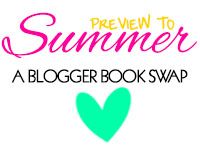 I recently participated in an awesome
book swap
hosted by
The Simplicity
,
Spillerena
,
Spunkyrella
,
Three31
,
run(dance)love
, &
I Believe in Story.
It has been my favorite swap for a lot of reasons; I love to read, I love to meet new people, and because all of the hosts had a weekly link up, which made it so much fun! You can take a look at those link ups
here
,
here
,
here
,
here
, &
here
.
I was partnered up with an amazing gal, Bri. We were able to connect with each other and share more than just swap packages and I am happy to have a new friend in the blogosphere! Bri blogs over at
School In Our Slippers
and is a Independent Executive Director and consultant for
My Thirty One Gifts
. She sent me such a lovely package and I was totally excited to get it!
First of all, she wrapped it up so lovely with cute tissue paper and a tie & flower clip!
Bri had asked me in one of our many email exchanges if there were any particular books I wanted. I am really glad she asked because I have been wanting to get Eat Pray Love again. I had that book back when it first came out and it was like a personal Bible for me. I had highlighted it, made notes, underlined, had tabs... it was very important to me! I lent it to a co-worker who later was fired and she never returned the book to me! I was devastated. I may, or many not, had sent her a few nasty emails about hijacking my book....
Anyway, Bry sent it to me along with one of my faves, The Shack, and a fave book of hers - The Pilot's Wife. I am definitely diving in to The Pilot's Wife next!!
Holy moly peoples... she sent me two amazing bags from her catalog! A personalized zipper pouch and an OWL COIN PURSE!!!! Thanks Bri!
I sure hope Bri enjoys the books and goodies I sent her! Both of the books meant a great deal to me so I am hoping she can find meaning and importance in them as well.
I want to thank all of the hosts for this amazing book swap! I can't wait to participate in another and host my very own in December for my online book club, Thread the Pages.